---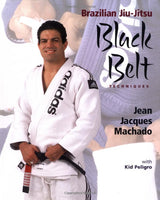 Brazilian Jiu Jitsu Black Belt Techniques
Jean Jacques Machado, with Kid Peligro
Softcover, 244 pages
ISBN # 1-931229-32-5
Printed in the USA
Black Belt Techniques includes:
112 positions, demonstrated step-by-step in full color.
Both traditional jiu jitsu moves and no-gi submission wrestling techniques.
Moves presented not in isolation, but as a series that takes you from an initial threat or opportunity all the way to a submission hold.
* Have your book personally autographed by Jean Jacques Machado
If you select the Autographed option, let us know the person's name, or the name and a specific message you would like autographed in your book. For example, you can either tell us the specific message you would like signed, for example, "To Tim Smith, Best Wishes", or just tell us the person's name and Jean Jacques will write his own message. If you choose your own message, keep it brief and respectful; Jean Jacques may refuse to inscribe an autograph for any reason, in which case you will be notified and have the option to cancel your order.

Autographed books may take up to 2 to 3 weeks to process before they are shipped.